Apophyllite and Aquamarine
Apophyllite
Color-Clear, white, green, yellowish, peach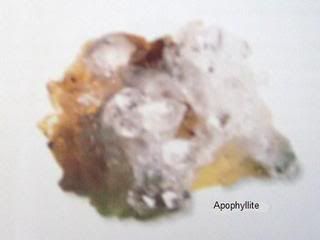 Apophyllite Appearance

-Cubic or pyramidal crystals, may be transparent or opaque.
Attributes-Due to its high water content, Apophyllite is an efficient conductor of energy and a carrier of the Akashic Record (record of all that has occurred and will occur, including past life information). It is a powerful vibrational transmitter that enhances the energies in a room with its presence. It has a strong connection between the physical and spiritual realms. It maintains a strong connection to the physical body during out of body journeys allowing information from the spiritual realm to be transmitted into the physical. Apophyllite enhances clear sight, stimulates intuition, allows one to access the future, promotes introspection into one's own behavior, and is a stone of truth that brings recognition of one's true self. On the mental level, it reduces stress, releases mental blockages and negative thought patterns, and helps one overcome anxiety, worries, and fears. Spiritually, this stone inspires universal love into analysis and the decision making process so that the mind becomes attuned to the spirit. It calms and grounds the spirit and has strong links to the spiritual realm, while at the same time allows one to feel comfortable within their body.
Healing-Apophyllite is a excellent stone to assist in Reiki healing. It takes the patient into a deeper state of relaxation and receptiveness, while at the same time takes the healer out of the way so that the flow of healing energy to the patient is more pure. When holding Apophyllite to the chest, it can stop an asthma attact and works on the respiratory system. It neutralizes allergies, promotes regeneration of the mucus membranes and skin, and rejuvenates the eyes. It also helps the spirit come to terms with being in a physical body.
Green Apophyllite activates the chakras, promotes a forthright heart, and absorbs and transmits universal energy. An Apophyllite pyramid is a powerful energizer that enhances spiritual vision and brings light and energy into the heart.
Aquamarine
Color-Green-blue
Appearance-Clear to opaque crystal
Attributes-Aquamarine is a stone of courage. It has a calming energy that reduces stress, quiets the mind, harmonizes its surroundings, and protects against pollutants. It has the power to invoke tolerance of others, helps one overcome being judgemental of others, gives support to anyone who is overwhelmed with responsibility, encourages taking responsibility for oneself, creates a personality that is upright, persistent, and dynamic, and can break old self defeating patterns. It calms the mind, filters information reaching the brain and clarifies perception, sharpens intellect, and clears up confusion. It is helpful in bringing closure on all levels, clears blocked communication, promotes self expression, soothes fears, and increases sensitivity. One a spiritual level, Aquamarine sharpens intuition, opens clairvoyance, encourages service to humanity, shields the aura, aligns the chakras, aligns the physical and spiritual bodies, and invokes a higher state of consciousness and spiritual awareness.
Healing-Aquamarine helps in the treatment of sore throats, swollen glands, throid problems, and helps strengthen the body's cleansing organs. It aids the eyes, teeth, stomach, and calms overreations of the immune system and autoimmune diseases.
If you would like to purchase one of these two powerful stones or would just like to get a visual of their appearance, please feel free to follow this link. If interested in obtaining information about other stones, just follow the main crystals page link at the bottom of this page. Happy reading.
---
Supportive Links

Forces of Nature - Featuring the World's First and Only Line of Medicine that is Certified Organic! FDA Registered
Free Personality Quiz How well do you know yourself? What is your next growth step?
Items on Sale at OnlineFabricStore.net - shop today!
Top Weekly Deals at Walgreens.com
Brainwave MP3 Recordings, Isochronic Tones And Binaural Beats For Meditation, Weight Loss, Sleep Improvement , Energy  Increase, Anxiety And More.

Reawakening guided meditation - Discover what it feels like to always be calm, in control, and stress free without the use of medication.
Precious Moments - Giant sales going on now!

Healing the inner child through creative visualization.
Let the spirit of the goddess shine upon you with a free sample Goddess Within Reading!
The unexplainable store- Brainwave Recordings, Health, Wealth, Prosperity, Manifestation, Success. Crystal Sets- Crystal Activation, Physical Cd's Spiritual And Metaphysical
Save up to 70% off closeout craft supplies at the CreateForLess Clearance Sale. Quantities are limited - shop today!
Metabolic Cooking Fat Loss Cookbook - 250 Fat Torching Recipes To Banish Your Boring Diet And Burn Fat Faster!
Linden Method -proven to eliminate panic attacks, anxiety, and phobias without medication.
Discover The Revolutionary Software That Will
Reprogram Your MIND And BODY Automatically.
Placing Thousands Of Positive Affirmations
directly in your brain FAST and EASY.
Ride the wave of awakening and break free from the 24 Abundance Blocks holding you back from obtaining Unlimited Abundance.

Stop!!...before You Spend $100s On Expensive Reiki Training There Is Something Very Important That You Should Know. You can now quickly discover how to channel the beautiful healing energy of Reiki to help heal yourself, friends and family.
Become a Life Coach and earn an income doing it.


Unleash the amazing power of your mind.



Discover more about yourself by receiving a free
Numerology
report.
Self-Love is the key to success in all areas of our lives...relationships, financial freedom, etc. Check out this Self-Love Healing Program to begin feeling happier, healthier, and experience greater success in your life.

Self Hypnosis
---
from apophyllite page to main crystals page
information on crystal formation
back to home page
herbal healing recipes
explore meditation
---
Didn't find what you're looking for? Use this custom search tool to find it.