Breath Taking Cloud Photos
These beautiful cloud photos were taken in my back yard. I find photography to be highly enjoyable. It allows an individual to express their inner creativity, connect to nature, and bring a sense of self awareness.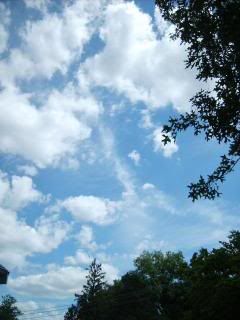 The following photos were taken on the same day at a different time. It's amazing how different a photograph taken of the same area at different times during the day can look.
Viewing beautiful cloud pictures such as these can be extremely calming and healing. It's a form of color therapy that touches us subconsciously. It brings healing to our bodies without us even realizing it's doing so.
I've found getting out and taking the photos is a great means of creative self expression. This in and of itself is healing. I truly feel that if we do not express our inner creativity and passion in some way, we literally die inside. Photography is a great means of keeping yourself alive. Why not give it a shot!
If you are in need of a camera, I would suggest visiting half.com or buy.com. They both have a large selection of new and used products at great prices.
You may even want to try Blick Art Supplies. They have a wide range of products at great prices.
---
from cloud photos to home page
Poetry Links
Prayer & Meditation
Music equipment
Art Therapy
Guided Imagery
Healing with Crystals
Dance Therapy
Herbal Recipes
Jewelry & Beading Supplies
Color Therapy