Gladiolus Flower Photos
Check out the rich color in these Gladiolus Flower Photos.
I love the background of the green vegetation. It really makes the joyful color yellow stand out.
One of these two Gladiolus Flower photos was taken slightly closer up to show how little it takes to capture the intricate details and internal structure of the flower.
In my opinion, both are beautiful shots. I, myself am partial to showing as much of the internal structure as possible. How a person takes a picture reflects that individuals personality. An individual can actually learn alot about him or herself by getting out and taking photos of whatever they find interesting.
Taking pictures is a great means of gaining self awareness and is actually quite healing. To learn more about the healing benefits of photography, read this article entitled The Real Picture of Photography. I think you will find it to be interesting reading.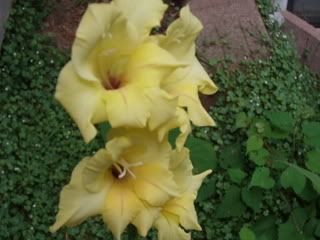 Color Therapy also comes into play while viewing all the wonderful pictures you have taken. To learn more about Color Therapy, please read this Color Therapy Article. It too is interesting and very informational. It also explains the healing benefit of having the vibrant color yellow in your garden. Check it out and enjoy.
---
Recomended links
Convert your photos into posters
Digital cameras, CD's, & more @ Half.com
e-sticker.com
Learn how you can earn money from your amateur photos
Diet to Go / Great new weight loss discovery
---
---
from gladiolus flower photos to main gallery
back to home page