Echinacea - Purple Cone Flowers
The dried root of echinacea has a reputation for enhancing the immune system. Research shows it stimulates the production of white blood cells, which fight infection and that the polysaccharide has an anti-viral activity.
For this reason, the echinacea plant may be useful in treating viral infections such as mononucleosis and post-viral syndrome myalgic encephalomyelitis. not to mention it is a beautiful flower to have growing in your garden.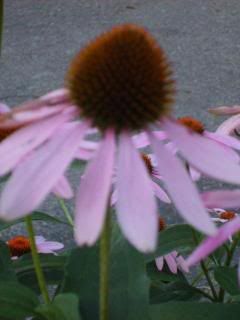 Echinacea, also known as Purple Cone Flower, was a valued herb by North American Indians and frontiersmen of the USA and became a famed remedy for snake bite and for cleansing and healing suppurative wounds. Today herbalists regard it as one of the finest blood cleansers, especially for skin problems such as boils and abscesses associated with impure blood.
Echinacea is also an excellent remedy for tonsillitis, inflamed gums, mucus in the nose, sinuses, lungs, and the digestive tract. Used externally, it treats wounds or ulcers and reduces pain. A wash of purple cone flower can help relieve the itching of urticaria and is a good treatment for stings and bites.
If interested in growing Echinacea in your garden or flower bed I would suggest visiting Nature Hills Nursery. You can purchase live plants online at amazingly low prices.
Hope you enjoyed the information and photos on this page. Please feel free to explore the rest of the site and come back an visit as we are adding new information all the time.
---
---
from echinacea to main photo gallery
back to home page
Herbal Supplements
Healing with BioFeedback
Learn Reiki Healing

Chakra tuned singing bowls